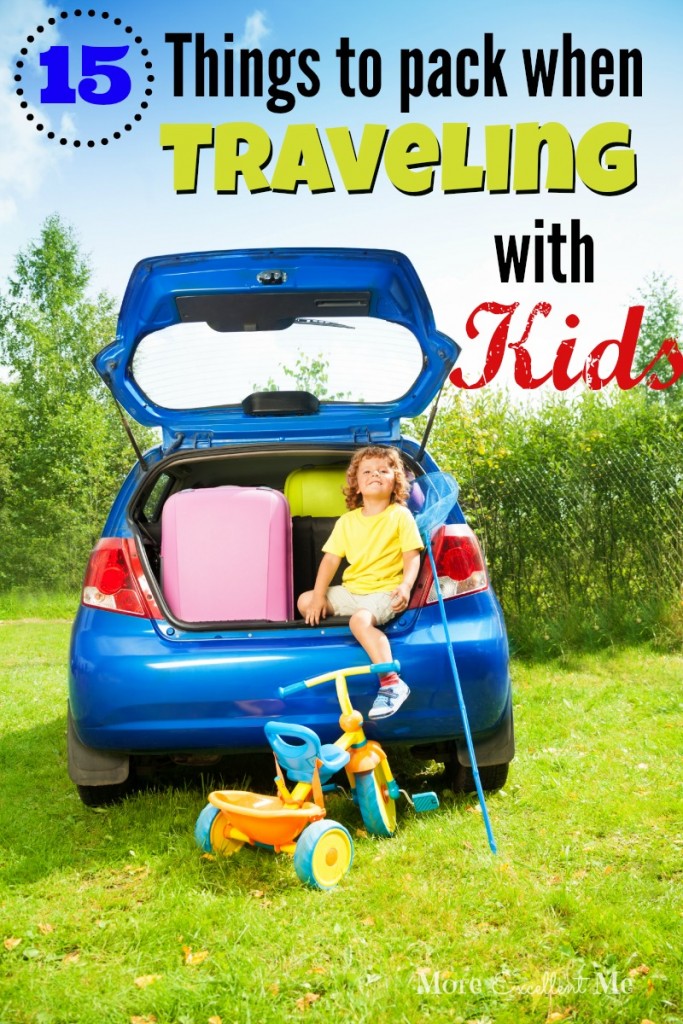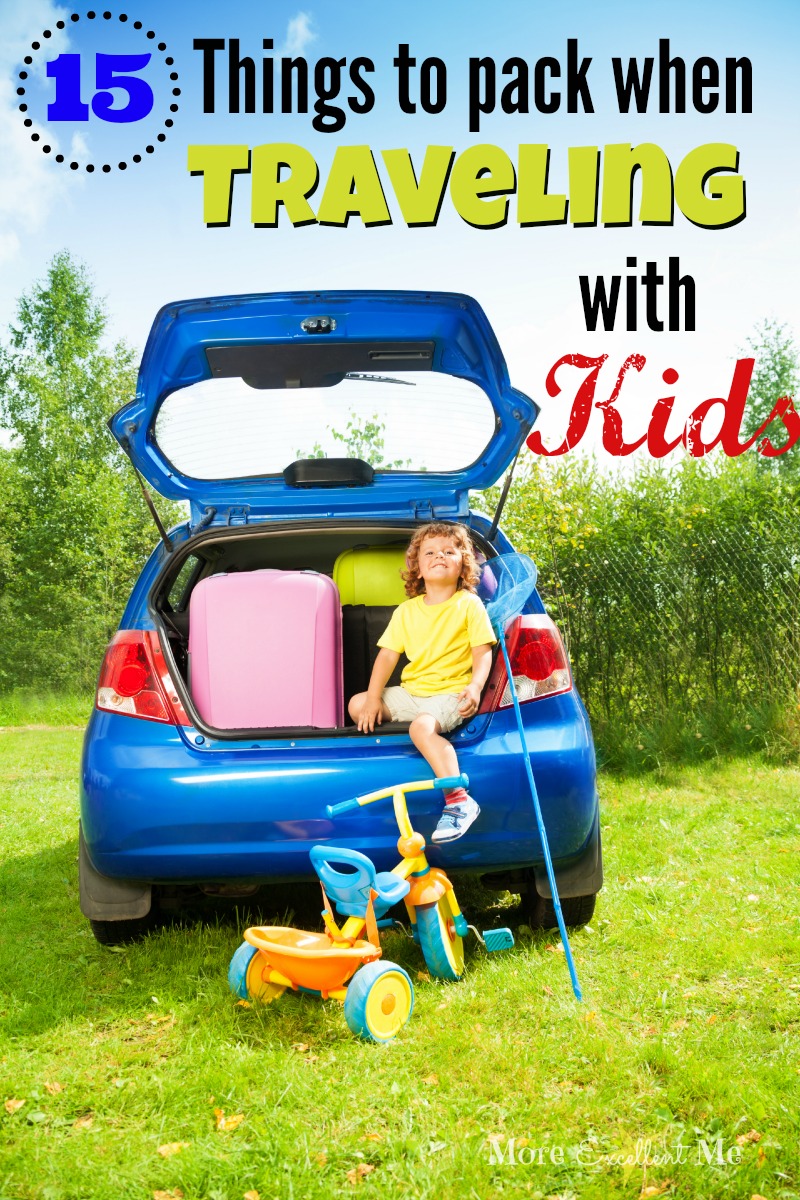 15 Items to pack when traveling with kids
1. Children's Tylenol 

 
I'm not sure why it is, but whenever we travel it seems like at least one of my children ends up sick. I don't know if it's just new places carry new germs to infect my kids or what.
However, I do know one thing you don't want to deal with is running to the store in the middle of the night because someone has come down with a fever. Best case scenario is you all stay well and never have to use it, but it's always better to be safe and prepared
2. Plastic Bags
Plastic grocery bags have so many uses. Plus, they are free and we always have them on hand. You can use them for trash, wet clothes or dirty diapers.
My Sweet Girl has a tendency to get car sick. So I also keep gallon size Ziplock bags in the car in case she starts feeling nauseous. These are good to use because they can contain the throw up so it doesn't get everywhere. Then you can seal it closed to contain the smell till you get to somewhere you can through it out.
3. Slip on Shoes
This will save time putting on everyone's shoes for bathroom breaks or rest stops. If your children are anything like mine they are going to take off their shoes the second they get in the car. In fact, I stopped putting my children's shoes on before leaving the house for a while because I knew by the time we got to our location I was going to have to put everyone's shoes back on again.
When my two year old announces that we need to stop for an emergency potty break, I don't want the two minutes it takes me to tie up his shoes to be the difference between being able to hold it and having to change clothes.
4. Piddle Pad 
I recently bought this Piddle Pad
 after my son potty trained. I didn't want to confuse him by putting him back in a diaper or pull ups when we drove, but also wanted a safety net in case of an accident. This fills that need. It keeps me from having to find a way to wash out his car seat or journey with the unpleasant aroma of urine in the event of a potty mishap.

5. Seat Protector
Chances are if you're driving with kids something's going to get spilled. Whether it's a drink, crushed crackers or melted crayons you don't want any of that junk rubbed into your upholstery. It's so much nicer just to plan ahead and put a cover under every car seat. Rather than have to try and scrub out a stain later.

6. Spill Proof Children's Drink Bottles

 
This reduces the likelihood of something being spilled. It's mostly for convenience and peace of mind. We bought Thermos 12-Ounce Funtainer water bottles
 earlier this year and are loving them. Seriously, these are the best water bottles we have ever owned. I can fill it with ice water on a hot summer day and eight hours later there will still be ice in it.
7. Change of Clothes
With kids, an easily accessible change of clothes is always a good idea. If you have a kid who gets car sick or one who has recently potty trained, like mine, this is even more important to have.
Even if these aren't problems for you, young kids just get dirty. When you head back to your car after finishing lunch and discover your child sat in ketchup you'll be grateful to have something clean to put them in.

8. Wet Wipes
I like to carry both baby wipes and Lysol wipes. Baby wipes are super handy for cleaning sticky hands and faces. While the Lysol wipes can be used to clean anything you also want to disinfect. I always keep a pack of both in our van and you wouldn't believe how many times they have come in handy.
9. Hand Sanitizer
To help my kids from ingesting all those new germs they are bound to pick up.

 

10. Snacks

 
Anything easy to eat that won't make a mess is ideal. Grapes, trail mix, string cheese, dried fruit, cereal,cheese crackers, white cheddar popcorn, baked chips, beef jerky and granola bars are some snacks we like to bring.
My kids favorite is wheat thins and spray cheese. We only buy these when we travel. My children like me to put the letters of their names on the crackers with the cheese.

11. Entertainment
Traveling with kids is so much better if your children can stay entertained. We like to bring everything we think will keep their attention for long periods of time. Movies and a DVD player are essential.
Honestly, when we are in the car I don't care how much screen time my kids have. If they watch two movies that is almost four hours they are entertained. I'm not going to complain about that.
Also tablets with apps for kids can be a lifesaver. Other things we bring are favorite toys, stickers,paper, colored pencils, and books.

12. Trays

 
We use these for our kids to hold their meals on when we eat in the car. They also use them to hold activities like coloring. I found small cookie sheets at our local Dollar Tree that have worked well for this.
13. Car organizers

 
Ever seat in our van has a car organizer attached to it. This allows our big kids to have a place to keep all their activities and toys. It also allows for them to be able to access them themselves. This helps cut back on clutter being all over the seats and floor.
In the babies organizers, we store diapers, cream, wipes, burp cloths, baby blankets and clothes. That way when we need them we can always easily get them. 
 

14. IPod
Before we travel we load children's music onto our iPod. During our last road trip, we loaded on the Frozen soundtrack. My kids loved singing along to it as we drove.
We also add audio books to our playlist. The kids enjoy listening to them, and as an added bonus we are able to count them toward my daughter's elementary school summer reading program.
15. Sunshades 
The sun can heat up a car pretty quickly as it streams in through the windows. Not only do sun shades keep the car a little cooler, but they can protect your children from getting sunburnt. My kids also hate when the light gets in their eyes when we travel. I love that our van has sunshades built into the back windows, but if your car doesn't these Sun Shades
on Amazon have good reviews.
What are some of the items that you always pack when traveling with young children?