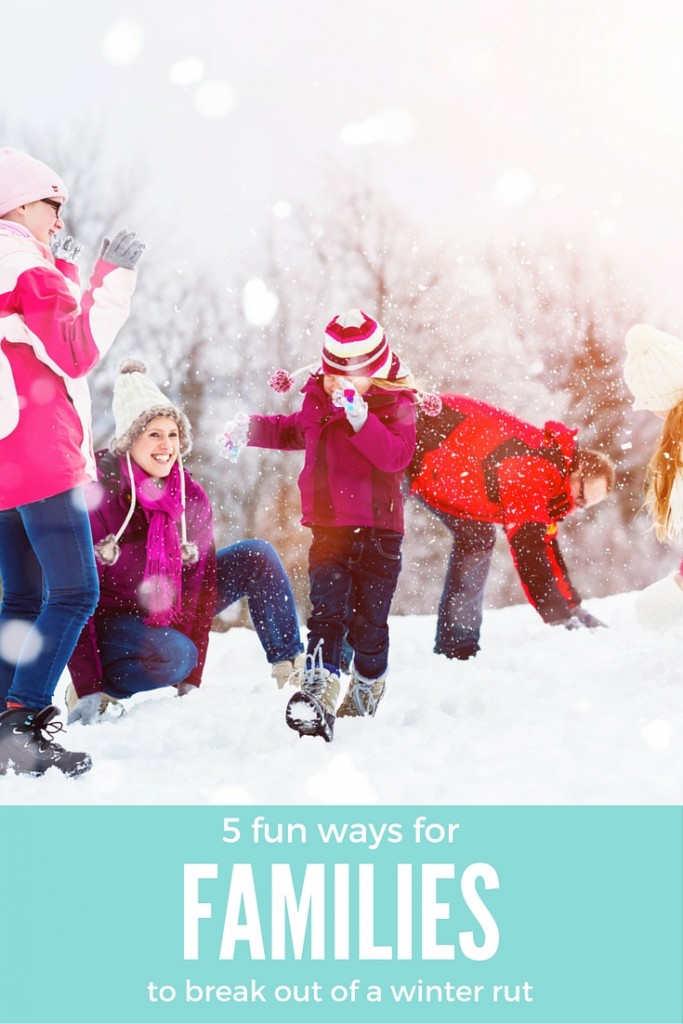 Ever feel like your family is just trying to survive the winter?
Cold temperatures lead to more time stuck indoors. More time indoor leads to children with energy left to burn and in turn more messes made in the house. All of this can combine to make you feel like your stuck in a less than pleasant rut.
Don't stay stuck in a rut this winter. Try one of these fun ideas to get your family back into an enjoyable routine.
5 Ways to get your family out of a winter rut
Get Moving
We all know that exercise increases endorphins and releases stress so why not try adding some into your family routine. Even in winter, there are tons of fun ways to get moving and active with your family indoors.
You could take you family to a local indoor swimming pool, gym or racket ball courts. Alternatively, if you're looking for something to do at home try a fun exercise video or turn on some music and dance together.
I like to watch children's exercise videos on YouTube with my kids. The videos are simple enough for them to following along but strenuous enough to count as a work out for me also.
Plan a Staycation
You don't need to travel far from home to feel like your getting away. Look up some of the local tourist attractions in your city and spend a couple days exploring a few of the places you've never been.
Start a project
Winter is a great time to get working on a project you've wanted to accomplish. Choose a project that the whole family can get involved in.
When you work together it not only strengthens family bonds but keeps you busy as well. Before you know it you will have finished your project and be able to move into spring with that accomplished feeling together.
Celebrate something
Have you ever noticed how the holiday season seems to fly by? It's not till it over that the dull of winter starts to set in. That's because the holidays give us something to focus on and look forward to.
You don't need to wait for a holiday to celebrate with your family. Celebrate the little accomplishments of each family member or make up your own holiday. As you look forward to and participate in these celebrations with your family it's sure to brighten the long winter months.
Try something new
Sometimes the easiest way to break out a rut is to try something new. When we get stuck in the same old tired routines the days can feel long and exhausting. This can be especially easy to get sucked into the winter.
Use these long winter days to experience something you never have before with your family. Try a new hobby or go out to eat together at a new place. Learn a new skill or about a new place together. It doesn't really matter what you choose to do. As long as it's something new and you're together it's sure to add a little excitement to your winter.
So this winter if you start to feel like your family is just trying to make it through to spring, stop and give one of these fun ideas a try. Before you know it you'll be out of the dreaded winter rut and back to enjoying family life together like you should be.
What's your favorite activity to do with your family in the winter? I would love to hear. Please comment and share!