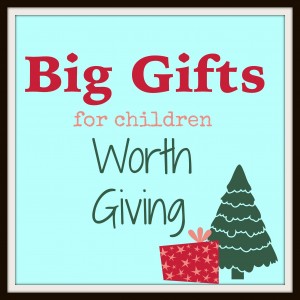 I have found over the years with my children that rather then buy them many small gifts for Christmas I am often times better off getting them a large gift that they can enjoy together. These gifts often get more use and my kids remain interested in them much longer. Plus, they don't clutter up my house like a dozen smaller gifts would.
However, If I am going to invest in a larger gift I want to make sure that it is of quality. I want it to be long lasting and provide hours of entertainment. Sometimes it is hard to know what kind of gifts will possess these qualities. Over the years I have bought more gifts then I would like to admit that I was sure my kids would love only to regret the purchase in the months that followed.
There also have been some gifts that I have never regretted. These are the gift that have gotten the most use and enjoyment from my kids over the years. These are the gifts where spending a little extra has paid off. If you decide to purchase one of these items I hope your kids find as much enjoyment in them as mine have.
5 Big Gifts Worth Buying Kids
Trampoline

When I was pregnant with the twins I was basically out of order for the last half of my pregnancy. As I would lay on the couch watching my kids bouncing off the walls and furniture I thought these guys need a place to get out their energy. It was the middle of winter so park days and bicycle riding weren't an option.
My original thought was a padded room, but since that wasn't practical a trampoline seemed like the next best thing. We did our research and found a great deal on a Trampoline with Mesh Padded Safety Enclosure
 on Amazon during Black Friday weekend.
I knew with how young my children are I wanted a trampoline with the safety net. Now my kids can bounce to their hearts content without me having to worry about them falling off. Even if you have older kids I would still recommend a safety net. We had a trampoline growing up at our house and I remember my brothers doing some pretty reckless things on it. The safety net should help prevent some of that recklessness.
This has turned out to be an even better gift then I could imagined. As long as there is no lightning or thunder I can dress my kids up weather appropriately and send them out to bounce when they need to get some energy out. Plus, it has been a fun activity we can enjoy with them as well. Seriously, there are tons of fun things you can do on a trampoline.
Dune Racer Power Wheel

For my Big Boy's first birthday we bought him a  Power Wheels Dune Racer
. He loves all vehicles so we were pretty sure this would be a hit with him. We were right and this has been one of the most loved toys in our home.
I chose this particular model even though it is slightly more pricey than other ride on toys because I felt it was safer. I like that it is wide and low to the ground. This make me believe that it would be less likely for them to be able to tip over in it.
We have owned this for over two years now and my kids still love playing in it. Big boy will ride circles in our backyard until the battery dies. Any toy that can keep a young child's interest for over two years is pretty much a win in my book.
Our home backs up to walking trails and often my kids will ride this on our evening walks. The Dune Racer has no problem getting over the bumpy unpaved paths, and as you can see in the picture it even works well in the snow.
One fun thing we like to do with this is set up cones in the back yard and have the kids take turns driving through a set course as we time them. My kids love this and will try time and time again to beat their fastest times. Since I am under the maximum weight limit for the dune racer I also sometimes get to participate in the competitions and I'm not going to lie this toy is pretty fun!
Basketball hoop
An adjustable height basketball hoop is another great gift to encourage family time together. I like that it gets us all outside and active. Also it is something that as an adult is actually fun to play with your kids. I don't know about you, but I can only play pretend for so long with my kids and keep my sanity.
We actually got our basketball hoop from someone whose children had grown up and moved out. We bought a new net and it works perfectly; so it's definitely a long lasting gift. I especially think the adjustable height hoops are a good purchase because right now we play with our children on the lowest setting and it's the perfect height. Then as they grow we can increase the height and the hoop can grow with them.
Kindle Fire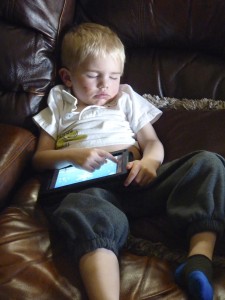 I love the Kindle Fire HD
 for kids. It is easy for my kids to use and portable. I like to download fun apps for my kids to play. This keeps them entertained on long car rides or when we are waiting in the doctors office.
I also like to download children's books for when we travel. As part of our bedtime routine we always read to our children before they go to bed. With the Kindle we can follow this routine without having to tote a bag full of heavy books along with us.
Often for quite time I give my kids the option of playing the Kindle in their bed. Although, my older children will no longer cooperate for naps they do enjoy this rest time since we don't let them play on electronics all the time. As you can see in the picture sometimes playing on the Kindle requires Big Boy to hold still just long enough to drift off. Getting a three year old to take a nap without a fuss… Priceless.
Experience
This year for our children's big Christmas present we are planing on taking a couple of days to go down to Albuquerque stay in a hotel and visit some of the local attractions. Although we live just a couple of hours from Albuquerque we rarely make it down there so this will be special for our kids.
I feel like there really isn't any gift better to give our children then the gift of our time. Giving an experience gift gives us the opportunity to make memories together that we will always look back on fondly.
A weekend getaway is one way to do this, but if this doesn't fit into your budget this year there are many other ways to give a gift like this. Some ideas I'm thinking of would be to take your kids to a local event or attraction. Take a class together or go sledding. I don't think you can go wrong with a gift like this. What our kids want most from us is our time and this is a great way to give them just that.
What are some big gifts you have given your children that they have really enjoyed? Are there any big gift you have gotten that you regret? I'ld love to hear please comment and share.
*This post contains affiliate links
Post Linked at Thrifty Thursday and Mom2Mom Monday