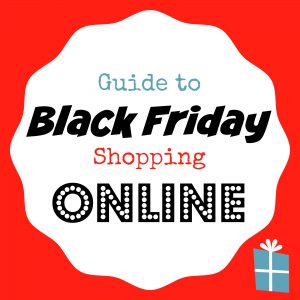 Do you love getting a good deal? How about waiting for hours in lines and fighting crowds of people, while being enticed to buy a bunch of stuff, that will just clutter your house in the weeks following Christmas?
Growing up I have memories of Black Friday shopping with my mother. That was when the stores gave out fun freebies to the first 200 or so customers in line. The deals seemed to be better and the crowds more courteous.
Even when my husband and I were first married we would brave the stores Friday morning. However, after having kids nothing about this experience seemed worthwhile. Something about having kids seems to make the value of sleep and time increase dramatically.
However, I like you still love getting a great deal. So I have opted to do my Black Friday shopping online instead.
I have learned many tricks over the years and have been able to get most of the deals I would have in stores instead shipped to my house. Here is my best advice to help you get your Black Friday shopping done from the comfort of your own home.
Tips For Black Friday Shopping Online
 Check the ads online as they become available
Now is the time to start preparing. These days you don't have to wait for the newspaper to come out Thanksgiving morning to see what deals will be available. Stores release or leak their ads weeks before Black Friday. In fact, last year both Target and Walmart had their ads available by November 10th.
Sign up for the email lists from companies that release the ads and they will alert you when they can be viewed. My favorite site is blackfriday.com. I have used their site for years to view the ads. They offer great features like a wish list to keep track of what you want to buy and allow you to search for an item and compare the sale prices on it.
Make a list and compare prices
As you browse the ads make a list of items you want to purchase and what the best price offered for that item will be. Like I mentioned earlier sites like blackfriday.com will do this for you, but I like to keep track of this information in an Excel spreadsheet. This way I can print it out and have it in front of me while I shop rather than switch between tabs online.
Watch the sales before Black Friday
Many times I think people assume the very best deals will be available during Black Friday, but that is not always the case. I remember one year seeing two packs of Carters pjs buy one get one free the week before Thanksgiving. I really wanted to buy them but talked myself out of it because I was sure there would be a better deal on Black Friday. There wasn't and I missed out on a great deal.
One of the great things about following the ads as they are released is if you spot a super deal before Black Friday you don't have to wonder if a better price will come later. You have already seen the Black Friday ad and know what your desired item will be priced at. So keep your eye out for great deals at Pre-Black Friday sales.
Set price alerts for similar items on Amazon
Amazon
 is kind of a genius when it comes to Black Friday sales. As an online retailer, they don't have to follow the same procedures as the brick and mortar stores. Their Black Friday sale
usually runs the whole Thanksgiving week.
They release their deals at different times throughout the day. So you want to check the times and items that will be released that day each morning. If there is something popular you want, be there as soon as its released and click as quickly as you can.
I have found throughout the years, that in their week of sales amazon almost always matches if not beats the best sells of the brick or mortar stores. Even items similar but not identical to products offered in other stores seem to drop in price.
For example, last year we wanted to get our children a trampoline for Christmas. We had been following the ads and knew that a lot of the stores would be offering deals on them during Black Friday. After reading the reviews of the trampolines on sale in the other stores we weren't impressed.
We found a similar one on amazon with great reviews and a slightly higher price tag.We decided that would be the trampoline we would purchase, but rather than buy it then we waited.
We used camelcamelcamel.com to set a price alert on the trampoline and come black Friday weekend we received an email letting us know the price had dropped.
We were able to purchase the trampoline we wanted for the same price we would have the lesser quality models in-store and have it shipped to our home for free.
Know when the sale starts online
Almost all online "Black Friday" sells start before Black Friday. In the past couple years, I've had almost all my Black Friday shopping done before Thanksgiving dinner. Lots of the online sales actually start at midnight on Thanksgiving. Depending on your time zone and the time zone the sale starts this could actually be Wednesday night.
The best way I have found to know when the sales start is to follow sites like blackfriday.com or blackfriday.gottadeal.com. These sites offer predictions of when the sales will start and update the page as soon as the sales go live.
I love that the online sales start way before the actual in-store sales do. Then if there was something you just had to have and you couldn't manage to get it online you could still head out Thursday night if you really wanted to.
Know what you want
Before the sale goes live know what you are going to be purchasing. If product numbers are offered in the Black Friday ads have those handy. I like to type in the name of the item I want into the search fields before the sale starts so that the text is auto saved. This is the quickest way I have found to add my items to my cart.
Make sure you have a store account set up
At each store, you are planning to shop at prior to the sale starting you want to set up an account and make sure your credit card information and address are correct. You don't want items to sell out because you are taking too long checking out.
Be online when the sale starts
We already discussed that you want to know when the sale starts online, now you need to make sure you are there as soon as it starts. Add your items to your cart and check out as quickly as possible.
This is especially true with popular items that would sell out quickly. If free shipping is offered don't wait to add everything you want to your cart. Check out with your most important items then browse. You don't want to miss out on getting a big item because you were trying to add a pack of two dollar socks to your cart.
Shop through Ebates to save even more
If you use Ebates you already know the benefits of clicking through them to get to the store you're planning on shopping at. If you haven't used them before I suggest you sign up for an Ebates.com account prior to Black Friday. This is an easy way to save even more money on top of the great deals you are planning on getting.
The way it works is they offer you a percentage of cash back for clicking through to shop at the stores they offer through their site.  Almost all the big stores you would think of are offered: Target, Walmart, Kohl's, Sears and JcPenny just to name a handful.
During Black Friday weekend many of the stores offer double percentages back on purchases so you save even more. I've used them for years and love getting the cash back for purchases I was making anyway.
Don't expect to get everything you would in stores
You can get many of the exact same deals online as you would in stores, but you aren't going to get everything.
Cheaper door buster type items don't seem to be offered online as often. So if you really want those 3 dollar pajamas or 2 dollar towels you might have to go to the store.
For me, these items aren't worth going to the store to buy. They usually aren't things I really need. It's just stuff I'm buying because it is cheap and available.
For instance, last time I went Black Friday Shopping in stores I bought an 8 oz crock pot for 3 dollars. Why? I don't know. I have used it once.
Don't Wait for Cyber Monday
For me, Cyber Monday is kind of a joke. I always have hope that some great deal is going to be offered and always find myself disappointed. The deals you are going to get online Black Friday weekend are way better. Don't hold out for Monday. You are going to miss out on some great deals if you do.
Doing your shopping online Black Friday takes a little bit of effort, but for me, it is totally worth it. You can get the same great deals and do it wearing your pajamas sitting on your couch. It is true you may have to set your alarm and wake up in the middle of the night when a sale starts, but if you are prepared you can be checked out and back in bed in 20 minutes.
What are your best tips for Black Friday shopping online? Please comment and let us know.
Disclaimer: The Ebates link on this post is my referral link. If you don't want to signup through me don't. I still think you should sign up for an account. I really do use them and think it is an easy way you can save money also.
Linking up at Thrifty Thursday , One Project at a Time and Link Party Palooza