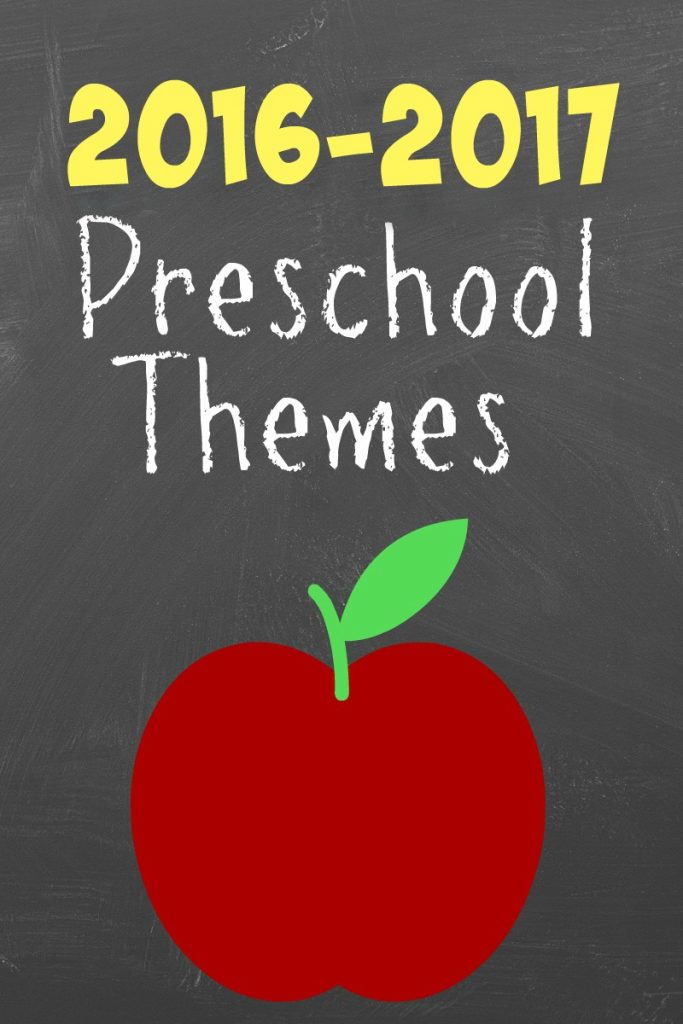 The school year is so much easier to prepare for once you have a plan in place. Choosing weekly preschool themes is an easy way to outline your year. It will help you gather ideas and make sure you cover all the topics you want to in a year.
My Preschool Themes Planner is a great tool to help you to organize your weekly themes. Sometimes, though, it seems like the hardest part of planning is just narrowing down topic ideas, and deciding what preschool themes you want to cover.
To help you start the planning process, I want to share with you the weekly preschool themes I choose for the year.
2016-2017 Preschool Themes
August
1-5 Me and My Home
8-12 Around the World
15-19 Olympics
22-26 Personal Health (feelings and hygiene)
29-2 Safety (fire, bike, emergency)
September
12-16 Transportation
19-23 Wild West
26-30 Heros
October
3-7 Fall
10-14 Dinosaurs
17-21 Bones and Body
24-28 Halloween
31-4 Trees
November
7-11 Nutrition
14-18 Harvest
21-25 Thanksgiving
28-2 Explorers
December
5-9 Giving
12-16 Arctic
19-23 Christmas
26-30 Off
January
2-6 New Year
9-13 Winter
16-20 Hibernation
24-28 Tools and Machines
30-3 Weather (Ground Hog Day)
February
6-10 I Can Create (art, music, dance, design, ext.)
13-17 Valentines (love and friendship)
20-24 Fairy Tales
27-3 Water
March
6-10 Air
13-17 St Patrick's Day
20-24 Flowers
27-31 Life Cycles
April
3-7 Pond
10-14 Easter
17-21 Earth Day
24-28 Spring
May
1-5 Jungle
8-12 Desert
15-19 Forest
22-26 Ocean
29-2 Islands (Volcanoes)
June
5-9 Garden
12-16 Circus
19-23 Summer
26-30 Bugs
July
3-7 4th of July (Independence day and patriotic symbols)
10-14 Camping
17-21 Safari
24-28 Lake
31-4 Farm
I hope these theme ideas will help you in planning out your preschool year. If you would like to use the same weekly themes throughout your year, you can download a free copy  by clicking the text below. Enjoy
What are some of your favorite preschool weekly themes? I would love to hear. Please comment and share.