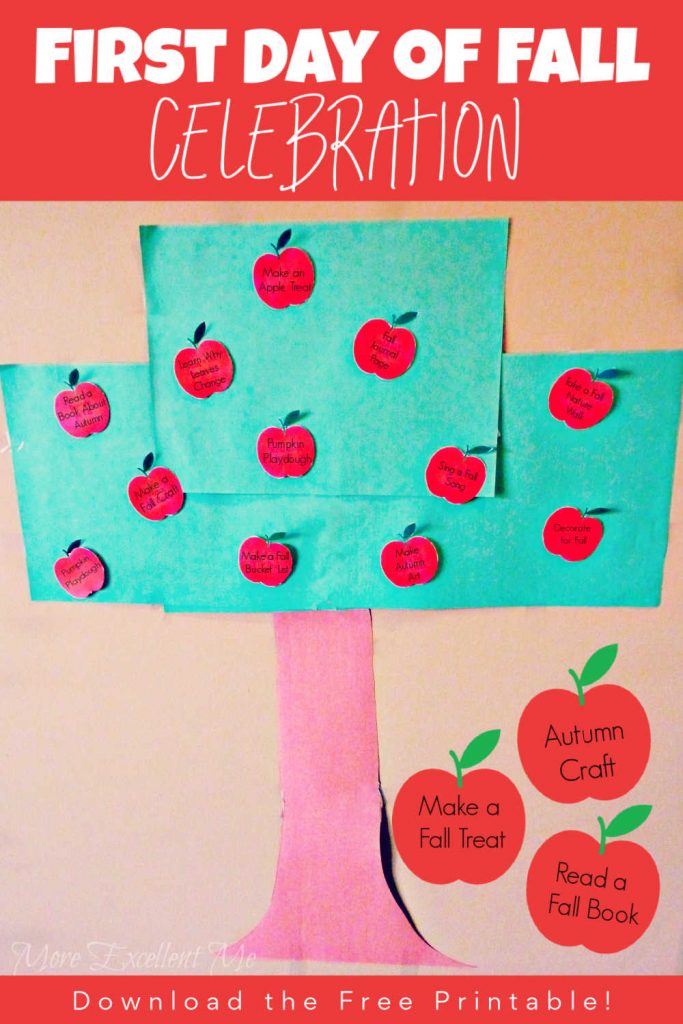 The temperatures are starting to cool and the days are growing shorter. It can only mean one thing. Fall is right around the corner! I don't know about you, but I love the changes the seasons bring.
As summer ends, we begin to switch out our shorts and sandals for boots and sweaters. We start to notice the green leaves fade and be replaced by brilliant golds and reds. There are all sorts of fun activities to participate in like apple picking and visiting the pumpkin patch.
The changing of the season to fall gives us the opportunity to make so many fun new memories or again experience our favorite fall traditions. It also provides lots of opportunities for fun learning activities. The start of fall is definitely something worth celebrating!
Today I want to share with you a fun and educational idea you can use to celebrate the first day of fall with your kiddos.
First Day of Fall Celebration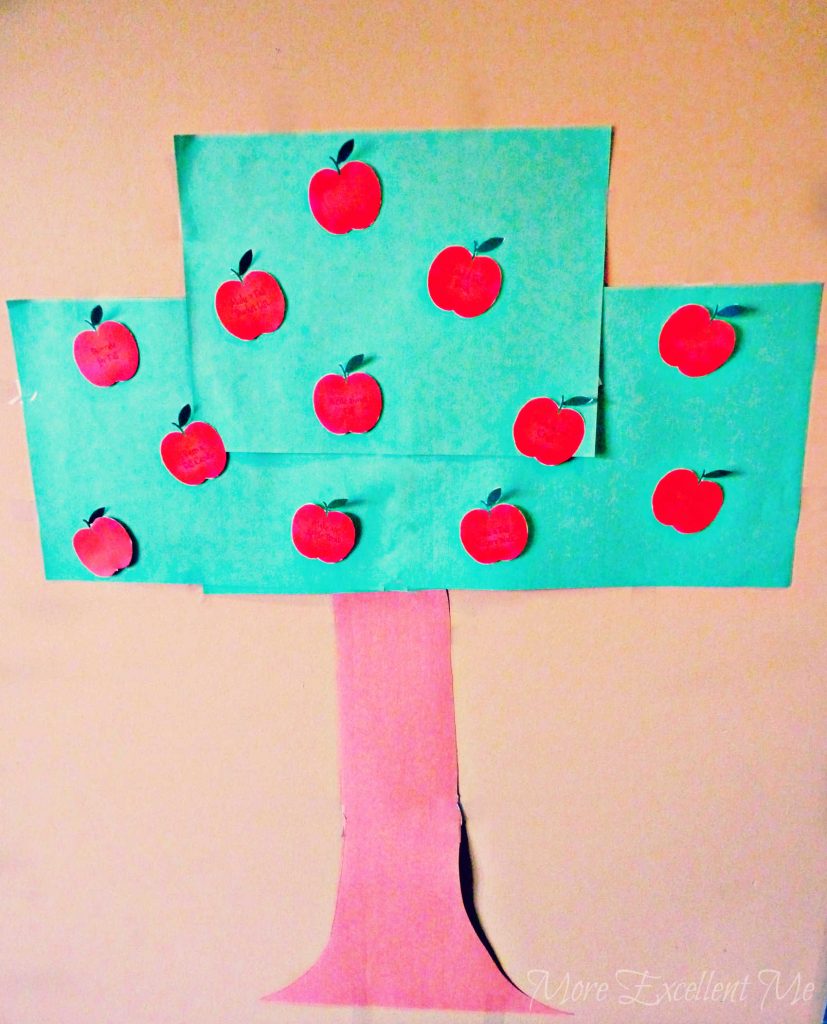 I wanted to find an idea to celebrate the first day of fall with my kids that we could uses from year to year but mix up the activities a little each time. So I decided to make a large apple tree on our wall using brown and green construction paper.
Next, I created and cut out some apples on my computer that had different fall themed activities on them. The activities include things like making an apple treat, reading a book about autumn or creating a fall craft.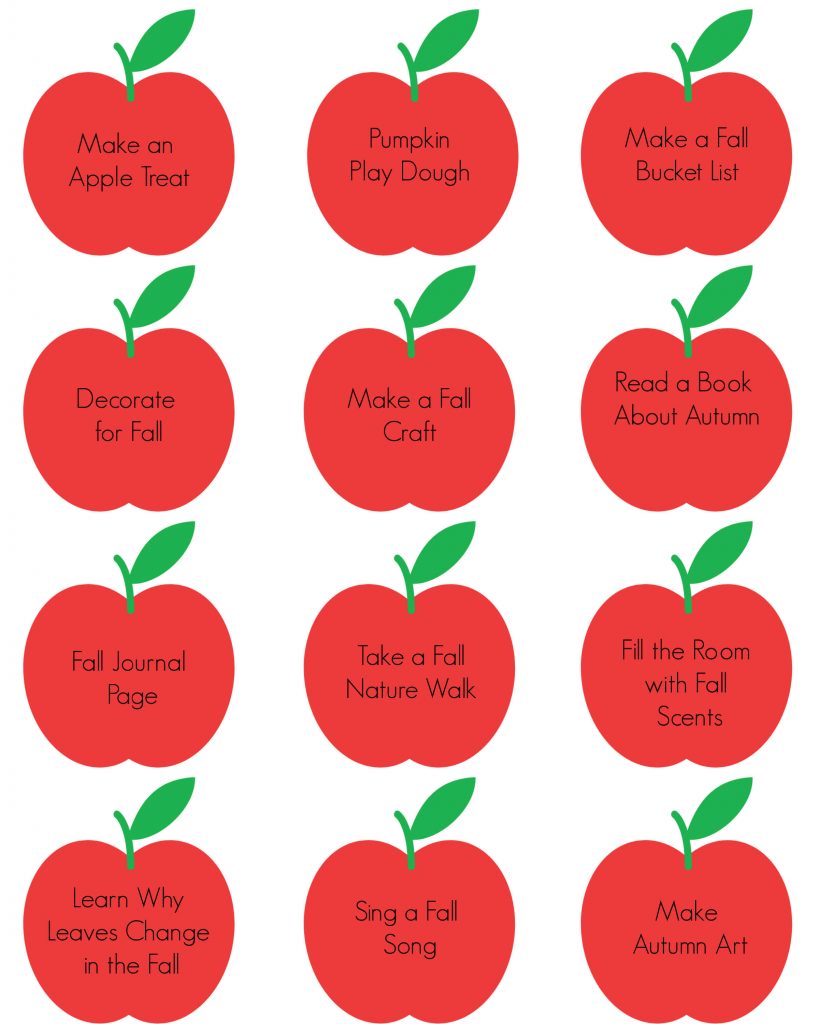 I tried to keep the categories more general so that you can choose an appropriate activity depending on your children's ages. Plus, that way if you want to use this same idea again another year you can do so without making the exact same craft or recipe every year.
I also included a sheet of blank apple in the printable below so you can write in your own activities if you would like.
I cut out all of our apples and put them on our apple tree. Then my kids took turns picking an apple off the tree and reading the activity listed. We would complete the activity and then move on to picking another apple. We continued doing this until we had picked and completed all of our apple activities.
This was a super fun way to celebrate the first day of fall with my kids! We are looking forward to using this idea this year as fall approaches.
Supplies Needed
It can take a little prep work depending on the activities you pick out and the supplies you need for them. However, setting up your apple tree is simple. You only need a few supplies.
First, you will want a few pieces of green construction paper and a piece of brown construction paper. Then you will want to download the link at the bottom of this post for the activity apples and print them out. You will also want some tape and a pair of scissors.
Cut your brown construction paper in half lengthwise to create a trunk for your apple tree and tape it to the wall. Next, tape up your green construction paper on top of it to make the leaves of the tree. Cut out your printed apples and place a piece of folded tape to the back on each apple and spread them out on the leaves of your tree.
Now you are ready for you first day of fall celebration! My kids and I loved using this idea to celebrate the first day of fall and I hope your kids will too.
Please feel free to download the free printable activity apples by clicking the link below. Enjoy!