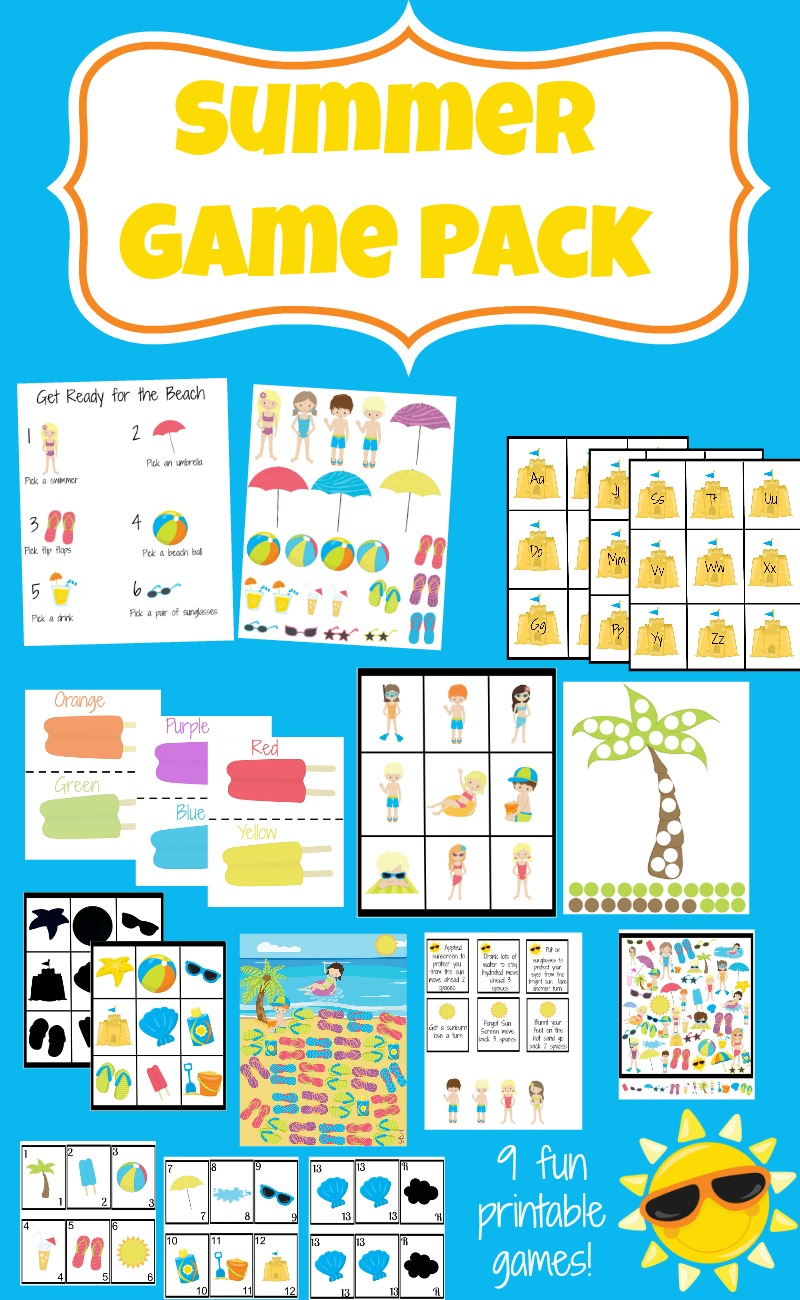 Summer is finally here!  Most kids love to spend time outdoors enjoying the sun during the summer months.
However, there always seems to be those times during the day, that kids need to unwind with a little indoor time.
This summer fun game pack is perfect for those down moment during the day, to keep your kiddos entertained.
Summer Game Pack
Summer Card Deck
The cards can be used to play various number games like War, Go Fish or Matching.
Roll and Read Beach Game
Roll the dice, and use the chart to see what corresponding item you can pick to help get your swimmer get ready for a day at the beach. Continue taking turns rolling, in till you have one of each item on the list.
Don't Eat the Swimmer
Place one object or treat on each swimmer. Have one player leave the room. Secretly pick a swimmer. When the player returns they may start picking up the treats one at a time. When they remove the treat from the chosen swimmer everyone yells, "don't eat the swimmer."
Popsicle Color Hop
Spread the popsicles on the floor. Call out a color and have the children hop to that color popsicle.
Sand Castle Smash
Spread the castle cards out on your playing surface. Call out a letter and have your child find that card and smash it with their hand.
Beach Board Game
Place the cards in a stack face down. Have each player choose a swimmer as their token. Have players take turns rolling the dice and moving their marker along the flip-flops. If you land on a sunscreen bottle draw a card and follow the instructions. Continue playing till you reach your friends near the water.
Summer Eye Spy
Find the pictures displayed in the legend in the picture.
Palm Tree Roll and Cover
Roll the dice and use the circles to fill the tree for the number shown. Continue rolling till the tree is filled.
Summer Shadow Match
Cut out the cards. Place upside down. Take turns trying to match the summer object to its shadow
* The cute images in this pack were created by Pretty Grafik Design