Pirate Early Learning Packet

Alphabet Fill The Chest
Cut out the gold coins and spread them out. Call out a letter and have your child locate the coin with that letter and place it inside the treasure chest.
Don't Eat The Pirate
Place a treat on each pirate. Have a child leave the room. Choose a pirate. When the child returns they can start taking the treats one by one until they pick up the treat on the chosen pirate. When they do yell "don't eat the pirate!" They may keep all the treats they have collected and their turn is then over.
Pirate Color Hop
Print and cut out the cards and circles. You may want to laminate for durability. Place the circles on the ground. Draw a card. Follow the action on the card to get to the color circle stated.
Pirate Coloring Prompts
Read the prompt and color a picture to match.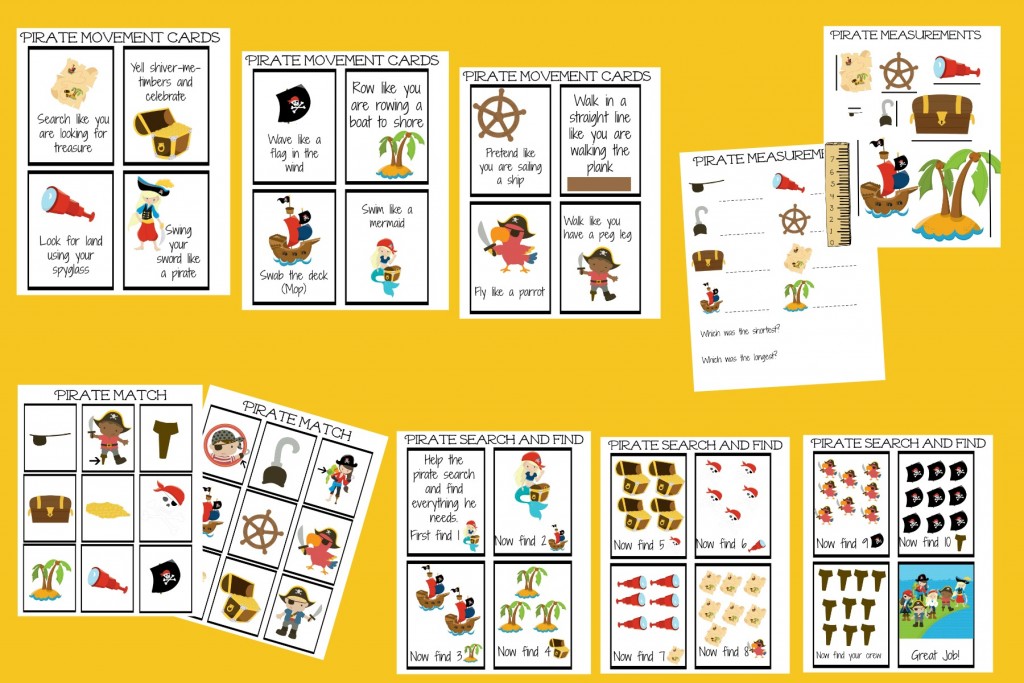 Pirate Matching
Match the objects to their corresponding picture (example: Ship wheel goes with ship)
Pirate Measurements
Cut out the ruler. Use it to measure each pirate object. The black lines by each object can also be used to measure. Record the lengths on the answer page.
Pirate Movement Cards
Print and cut out the cards. Draw a card and perform the stated action.
Pirate Search and Find
Cut out the cards and place all of them around the room except for the first card. Follow the instructions on the first card to look for the second card. As you find each card the bottom of the card will tell you which card to look for next. Continue playing until you find the pirates crew.

Pirate Senses Hunt
Locate an object in the room that fits the sense description given.
Pirate Shapes
Print and cut the cards. Draw a card and make the shape using your hand. Once you make the shape yell out the pirate phrase and draw again.
Pirate Write the Room
Cut and place the cards around the room. Have the child take their sheet and find the pirate items and copy onto their sheet either the letter or word on the appropriate line depending on their age and ability.
Pirate Classification
Cut out the objects and correctly sort them
I hope you will have fun using this packet with your kids. Enjoy!
If you enjoyed this packet be sure to follow More Excellent Me on Pinterest for more fun learning ideas
* The graphics used in this pack were created by Dorky Prints and Pretty Grafik Design