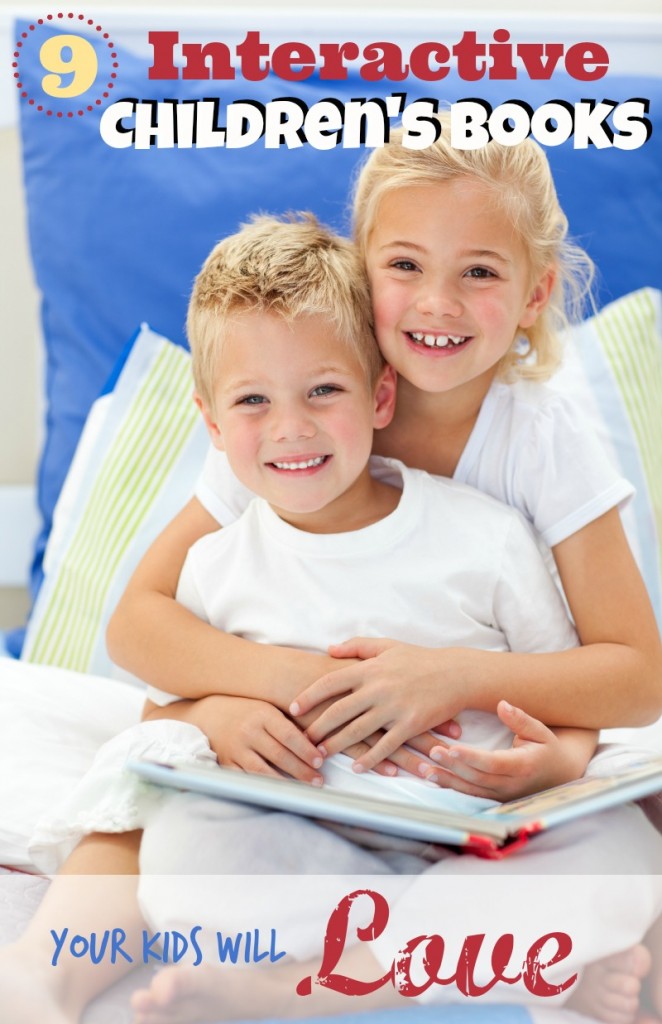 I love reading children's books with my kids. To be honest, though I'm kind of a children's book snob. There are so many great books out there I hate reading books that feel like fluff.
I love creative books that not only my kids enjoy but that I can enjoy while reading with them. Books that will get your kids interacting, moving or laughing with the story. The kind of books that your kids will ask you to read over and over. Here is a  list of those kinds of books
9 Fun and Interactive Children's Books
1. Don't Let The Pigeon Drive The Bus
by Mo Willems
Don't Let the Pigeon Drive the Bus  is such a fun story about a pigeon who dreams of driving a bus, and a bus driver who leaves your child in charge of watching his bus for him. We have read this book a hundred times and my children still giggle as the pigeon tries to talk them into letting him drive. It's so fun to listen to children respond to the pigeon and try and explain to him why he can't drive the bus.

2. We Are In A Book! (A Piggy And Elephant Book)  by Mo Willems
If you haven't read any of the Piggy and Elephant books yet, you should. There isn't a bad one in the series. We Are in a Book
 is definitely one of the best though. In this fun story Elephant and Piggy discover that they are in a book. Then they realize that because they are in a book they can make you (the reader) say a word. Kids will laugh out loud as Piggy and Elephant interact with them throughout this fun story.

3. Press Here by Herve Tulle
Press Here
 gets children involved in the story by asking them to perform different tasks and see how it affects the dots in the book. Kids will love to see how they can affect the story by touching, shaking and tilting the pages in the book.

4. Calm Down, Boris! by Sam Lloyd
Calm Down, Boris
 is part of Sam Lloyd's pop up puppet series. In this super cute books, kids will help Boris the monster with different tasks and he will try to reward them with lots of kisses. However, his kisses are much to tickley and kids will have to tell him to calm down. Your kids will laugh and laugh as they interact with Boris the monster.

5. Tap The Magic Tree by Christie Matheson
In Tap the Magic Tree
 your child will be able to perform different action to change the tree. Kids will love to see how they changed the tree by rubbing, tapping and clapping. This is a great way for children to see cause and effect in action.
6. The Book With No Pictures by B.J Novak
Children will quickly discover that this Book with No Pictures
 is anything but boring. Your children will laugh and laugh as the reader is forced to read all sorts of ridiculous things. This cleverly written book will definitely be a hit with young children.
7. Can You Make A Scary Face? by Jan Thomas
Can You Make a Scary Face
 will get kids up and moving as the lady bug asks them to imagine and act out different scenarios. When one of the imaginations turns out to be real the lady bug will need your child's help to scare it away!
8. From Head To Toe Board Book by Eric Carle
In From Head to Toe
 children learn about movements different animals can perform. Then they are asked to try and perform the actions themselves. I love how this story gets children up and moving in a fun productive way. This is a great book to read when kids need to get some extra wiggles out.
9. My Little Pink Princess Purse by Stephen Johnson
In My Little Pink Princess Purse
 children are asked to prepare for a ball by packing everything they will need for the event in their purse. This book has a crown and jewelry to try on, an inkwell to write with and even scratch and sniff perfume bottles. On top of all the fun interactive feature, this book also has a nice message to it.
What are your favorite interactive children's story books? I would love to hear. Please comment and share!
*this post includes affiliate links